Civitan provides a wide range of services and support to children and adults with developmental disabilities. The demand for Civitan services grows each year, while the costs of providing these services also continue to rise. As times change with the uncertainty of government funding, the need for more community support increases. Your strong partnerships and generous giving ensures that the much needed services Civitan provides to hundreds of families will continue NOW and INTO THE FUTURE.
Your planned and thoughtful contributions WILL make a difference and ensure that individuals with special needs reach their full potential.
#FundTheTruck
We have a wonderful opportunity to further support the employment of our members in a retail environment- Flerish Design & Resale at Cave Creek and now Flerish Midtown. Since both of our stores have thrift components, we are raising funds for a box truck to be able to pickup donations from around our community. Please donate HERE and go to Select Option and choose OTHER and write Flerish Truck. We can't do this without YOU!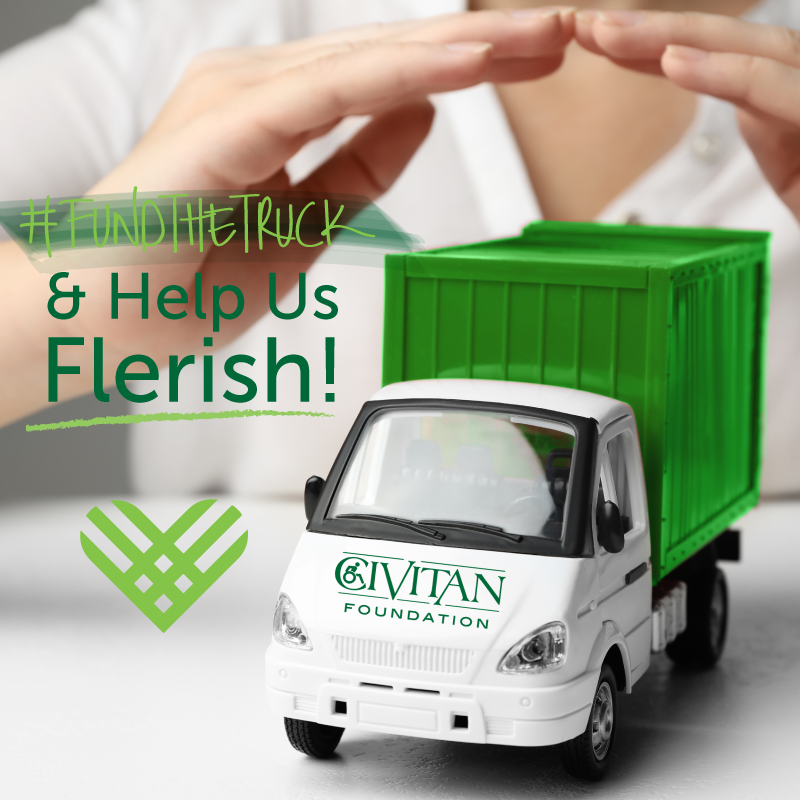 Learn more about Camp to Career and how your donation is a smart move for your taxes and Civitan Foundation.
The Arizona State Tax Credit program allows you to make a donation to an eligible organization and receive a dollar-for-dollar credit against Arizona state deducted on taxes owed. Make your gift before the April tax deadline. You can gift up to $800 (married couples filing jointly) or $400 (individuals). Every Arizona taxpayer can take advantage of the AZ Charitable Tax Credit whether you itemize or not!
Other Ways to Donate
Make a Financial Contribution
You can make a financial gift to Civitan Foundation by filling out this
Donation Form
and mailing it to:
Civitan Foundation, Inc.
12635 N. 42nd St.
Phoenix, AZ 85032
Payment can be made with a check or credit card (VISA, MasterCard, or American Express). In general, donations are tax deductible to many. However, you will need to contact your tax adviser to discuss the tax implications of your contributions.
Give a Matching Gift
You can maximize your gift if your company matches employee donations. First, contact your employer to determine if your company matches gifts. Then request a copy of their matching gift program form. Review the program guidelines to see if Civitan Foundation is eligible to receive matching gifts.
Arizona Tax Credit
The Arizona Charitable Tax Credit lets you get every single dollar of your donation to Civitan Foundation back as a state tax refund or credit against what you owe in state taxes. It's easy, and there's no need to itemize. Just make your gift before April 15, 2022. Your gift up to $800 (married couples filing jointly) or $400 (individuals) now qualifies for a dollar-for-dollar tax credit. Give $800. Get $800. It's that simple. All gifts made to Civitan are tax-exempt (EIN:23-7036797).* Use QCO Code: 20532*.
Memorials/Honorariums
Honor the memory of a loved one, a birthday, an anniversary, recovery from an illness, a wedding, or other occasion with a special gift. Each special occasion letter is inscribed with an appropriate message, signed with your name and sent directly to the individual or family you designate. The amount of your gift will not be revealed. Your kindness will make two hearts happy: the one you honor and the one your gift serves!
Donate a Vehicle
Do you have a car, truck, RV, or boat that you'd like to donate to Civitan? Contact the office at 602-953-2944 and we'll walk you through the process.
Donate Items
Quality used clothing and household items are needed for programs and merchandise to sell to our thrift store locations: Flerish Design + Resale (Office: 602-358-8677 12625 N. Cave Creek Rd, Phoenix 85022) and Civitan on 66 (Office: 928-635-1144 129 W Route 66, Williams 86046). Please call the office to learn more about what we need and can use.
Give a Planned Gift
There are many ways to support future Civitan programs through your will, estate plan or life income arrangement. Such deferred gifts provide an opportunity to support favorite charities while also accruing benefits to you and your family, including income or estate tax deductions, increased spendable income, and elimination of capital gains tax on appreciated stocks. We would be happy to make an appointment and talk about these opportunities to make a difference in the lives of future generations.
Participate In or Sponsor a Civitan Foundation Special Event
Be a sponsor for one of our fundraising events. From Community Markets to our signature Dance-A-Thon, Civitan creates events which engage our community and our members to raise valuable funds to support Civitan's mission. For more information about upcoming events, please call our office at 602-953-2944 or email info@campcivitan.org.